For the first time in its history, NXT Takeover would play host to four championship bouts as the gold brand stormed New Orleans for Wrestlemania weekend. The NXT roster has made a habit of stealing the show during high profile weekends such as Summerslam in Brooklyn and Mania in Dallas, and it looks as though the tradition has continued this weekend. Featuring five phenomenal bouts, let's take a look at the Takeover card which has set the bar unattainably high for their main roster counterparts.
North American Championship Ladder Match
EC3 vs Killian Dain vs Lars Sullivan vs Adam Cole vs Velveteen Dream vs Ricochet
With the recent signings of Ricochet and Ethan Carter III on top of a constantly growing mid-card, the timing couldn't have been better for the creation of a new NXT midcard title, the North American Championship.
The match featured a plethora of jaw-dropping spots, every wrestler pulling out all the stops in hopes of dispatching their foes. Velveteen Dream and Ricochet soared, Sullivan and Dain clashed like King Kong and Godzilla, and EC3 basked in the moment.
Ultimately, it was Adam Cole who ascended the ladder, bringing another championship to the Undisputed Era. With Cole pulling double duty later on in the tag title match, he already looked to be in rough shape following this hellacious match.
Every wrestler in this match came out looking better than they did going in. Everyone was involved in at least one insane spot, and everyone truly put it all on the line. An incredible match to kick off the card.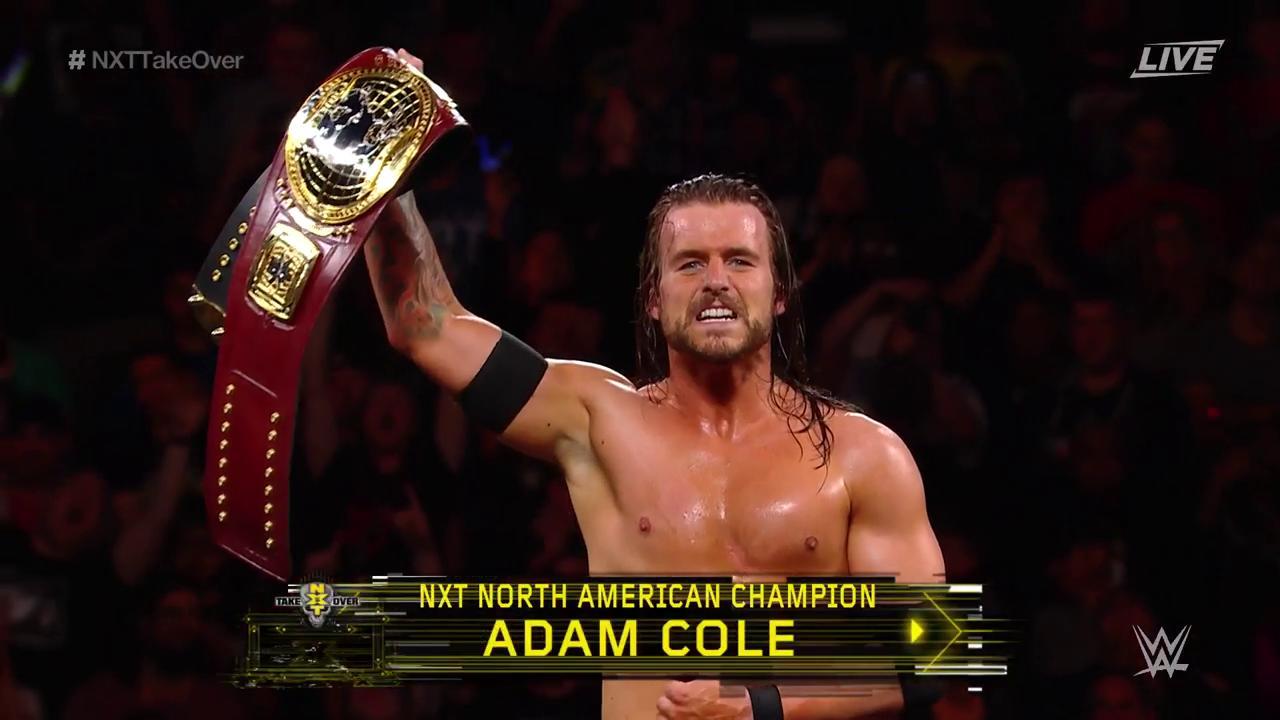 Women's Championship Match
Ember Moon(c) vs Shayna Baszler
Following an extremely close championship clash at Takeover Philadelphia, in which Moon was lucky to escape with her title, the women's champion would look to stave off Shayna Baszler once again in this rematch.
Not long into the bout, Baszler would pin down Moon's hand, attempting to repeat the move which injured Ember in their first bout. This time, the champion was prepared. Moon escaped, and soon had Baszler trapped in the precarious situation. With one swift stomp, Moon planted her foe's arm into the mat, dislocating the shoulder of the Queen of Spades.
Not willing to give up, Baszler drove her shoulder into the steel ring post, popping it back into place as she screamed in agony. Ember continued her assault, unable to put away her reeling opponent. The champion would attempt her Eclipse finisher, but Baszler was able to counter and seize Ember's back. From there, with the strength of only one arm, Baszler would lock in a rear naked choke and put Moon to sleep to win her first NXT Women's Championship.
This was a very strong match with a lot of great psychology that built off their first encounter in Philadelphia. Baszler looks like she's really starting to get a hang of things, and has come a long way since her matches in the Mae Young Classic. Moon will likely be headed to the main roster from here, passing the torch to Baszler as the new face of the NXT Women's Division.
Tag Team Championship & Dusty Rhodes Classic Finals
Undisputed Era(c) vs Authors of Pain vs Roderick Strong & UK Champion Pete Dunne
After interference by Adam Cole and Kyle O'Reilly during the finals of the Dusty Classic, William Regal created this triple threat match with both the NXT Tag Titles and the Dusty Classic Trophy on the line. With Bobby Fish out injured, and Adam Cole still ailing from his N.A. Title match earlier in the night, the odds were stacked against Undisputed Era to retain their titles.
The Authors dominated the match early, as they tend to do, going so far as to put Adam Cole through an announce table. Now on his own, Kyle O'Reilly went mental, taking out everyone in sight. Dunne would soon enter the fray, meeting O'Reilly in the center of the ring with stiff strikes.
Following a series of near falls, Dunne would plant O'Reilly with the Bitter End. Just when it looked like the Bruiserweight was going to pick up the victory, Roderick Strong broke up the pin, before hitting his partner with his backbreaker finisher, End of Heartache. Strong would then drag the lifeless O'Reilly on top of the fallen Dunne for the 1-2-3, and Undisputed Era would retain their titles.
The move is a shocker, as no one could have seen this coming. With Bobby Fish recently suffering an ACL injury, the addition of Strong to the Undisputed Era is a smart one, as it allows O'Reilly to continue to hold on to the Tag Titles while also letting Adam Cole focus on his newly acquired North American championship. With Roddy on board, Undisputed Era have become arguably the top faction in WWE.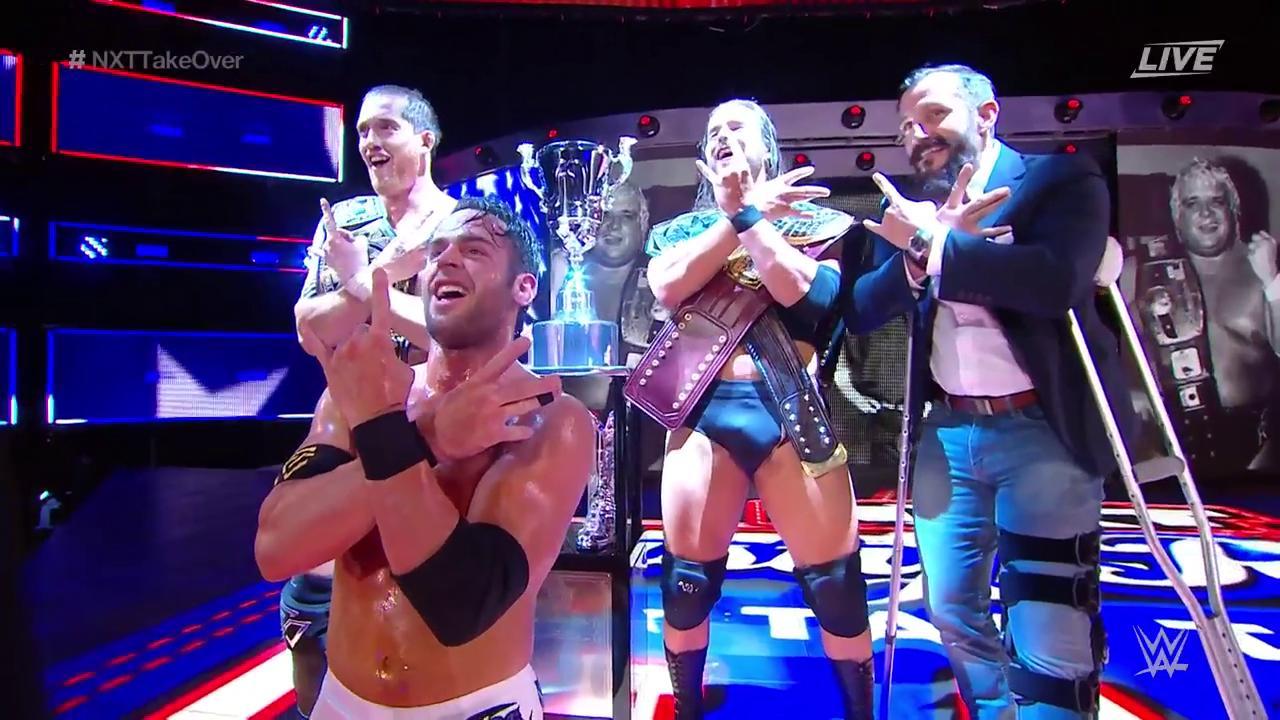 Andrade "Cien" Almas(c) vs Aleister Black
Almas and Black wasted no time going after each other in this one. The action went back and forth, as neither man was able to gain a notable advantage. Almas would dig into his arsenal, landing a spinning plancha to the outside, but it still wasn't enough to put away Black.
With Almas unable to vanquish his foe, Zelina Vega soon took it upon herself to get involved. A hurricanrana from Vega to Black while the ref was distracted netted a two count for Almas. Vega would again try to interfere, leaping from the top turnbuckle only to end up in the arms of Cien. With his hands full, Almas was left defenseless against Aleister Black, who landed Black Mass and scored the pinfall to become the new NXT Champion.
The coronation was a long time coming for Black, who has been one of the top performers in NXT since his arrival. Like Ember Moon, Cien Almas is likely headed to the main roster after this weekend. Expect Black to hang on to the belt until Brooklyn, where it will be his turn to pass the torch.
Johnny Gargano vs Tomasso Ciampa
Even with four championship bouts on the card, this grudge match was 100% deserving of the main event billing it received. Once tag team champions, Ciampa and Gargano have since become bitter rivals after Ciampa turned on his DIY partner at Takeover: Chicago.
This match was balls to the wall from the get-go. Ciampa and Gargano sent each other hurtling over barricades, announce tables, and onto exposed concrete. Ciampa would even steal crutches from an injured fan in the crowd to use as weapons.
Deep into the match, Ciampa would play possum, attempting to draw pity and sympathy from his Johnny Wrestling, before springing a surprise attack. Gargano would see it coming, evading Ciampa and locking in a submission utilizing Tomasso's knee brace. Ciampa had no choice but to tap out.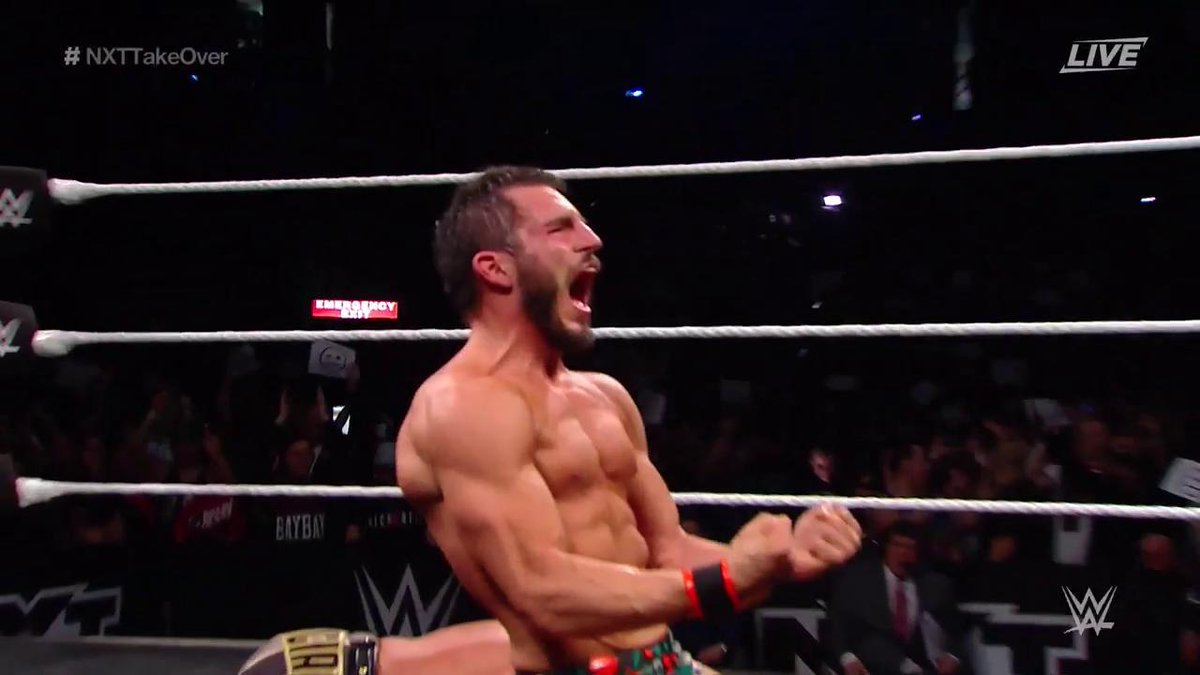 The bout was an absolute war and brings an end to an incredible saga. The history between Gargano and Ciampa rivals that of Kevin Owens and Sami Zayn. Whether they are teammates or opponents, these guys make magic when they work together. From their days in DIY to the main event of Takeover: New Orleans, it has been an honor to watch Johnny and Tomasso's story unfold.
As mentioned at the beginning, NXT Takeover has a knack for stealing the show on big weekends, and tonight was no exception. The card was beautifully paced, not spending too much time on entrances or backstage shenanigans, and giving the performers plenty of ring time to tell their stories.
The card featured the crowning of three new champions, as well as one of the best swerves in recent memory from Roddy Strong. Every match more than lived up to the hype, with many superstars exceeding expectations. All in all, Takeover New Orleans was the perfect blend of wrestling and storytelling; sports entertainment at its finest.