Welcome to a special edition of the weekly rundown, where we'll break down everything that happened at this year's Money in the Bank. Following a congested four week span in April that featured three high profile events (Wrestlemania 34, Greatest Royal Rumble, Backlash), WWE took a much needed break to recharge their batteries and put together some fresh storylines. With three world championship bouts, as well as both Men's and Women's MitB Ladder matches, there was plenty to look forward to at this year's event. Let's take a look at the highs, the lows, and everything in between from what many have been calling WWE's "new 'Big 4' PPV".
The Highs

Through the first 6 months of the year, there is little question Seth Rollins is the top performer on WWE television. He consistently puts on 15-20 minute matches on a weekly basis, epitomizing the Intercontinental Championship's prestige of being the "workman's title". Rollins is a rare breed of wrestler, akin to Shawn Michaels and Daniel Bryan, who excels at making their opponent look good. On Sunday night, Rollins defended his strap against Elias in a match where the Drifter felt very much like Rollins's older brother, bullying his younger sibling. All resemblance aside, Elias and Rollins are two of the best guys on Raw right now when it comes to feeding off the crowd and knowing how to work their audience. A sneaky roll-up pin by Rollins got the Architect the victory, but look for this feud to continue on towards Summerslam, where Elias may finally find the WWE gold he's been after.
Little Miss Money in the Bank
While the Money in the Bank match is usually considered to be a huge boost for an up and coming superstar, this year's women's match featured 6 former world champions out of the 8 contenders, with Lana and Ember Moon being the only two women yet to capture WWE gold. The women did not hold back, taking several hard bumps both on top of ladders and off of them, Sasha Banks in particular. Each woman was given moments to shine, and everyone delivered well in the match's big spots. Ultimately it was Alexa Bliss who unhooked the coveted briefcase, winning the MitB contract. The victory is an interesting one, considering Bliss was the most recent Raw Women's Champion before Nia Jax, as well as the fact that Ronda Rousey is now firmly entrenched in the main event scene.
The War We've Been Waiting For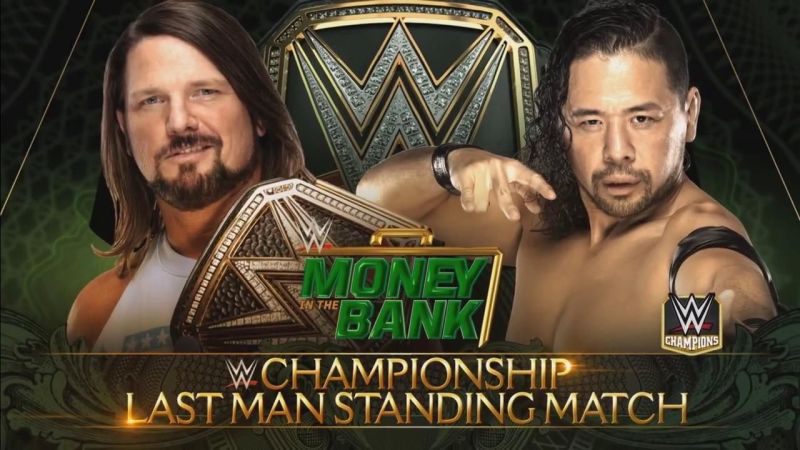 Finally. For the past few months, WWE Creative has done their very best to drop the ball with the AJ Styles vs Shinsuke Nakamura feud. On Sunday, the two foes spent the better part of thirty minutes beating the piss out of each other. This is the match fans have wanted since this feud started, but instead have been robbed of due to false finishes, like DQ's and countouts. While the whole "low-blow" aspect of the feud has been pretty played out, it was still a nice touch to see AJ deliver a final kick to the groin of Nakamura before finishing him off with a Phenomenal Forearm through the announce table. With the victory, it's very likely we see Styles move on to a new challenger, possibly the Miz or Samoa Joe. Hopefully Nakamura continues as a heel, but drops the whole "low-blow" shtick and just kicks ass.
Following a successful debut at Wrestlemania 34, Ronda Rousey stepped into the squared circle for just the second time as she faced off with Raw Women's Champion Nia Jax. Regardless of Ronda's experience in the Octagon, or behind a film camera, it is truly impressive for Rousey to be competing in this level of a match in just her second professional wrestling bout. While Rousey has failed to impress on the mic and during promos, her in-ring work during this match was incredible. Playing the smaller combatant, Rousey sold incredibly well for much of the bout, aptly putting over Jax's strength and power. I have repeatedly criticized Rousey's fellow Horsewoman Shayna Baszler for failing to improve upon her "selling", and it's amazing to see how much progress Ronda has made already. Due to a faulty finish (which we will get to shortly), it's very likely we see Rousey remain in the main event picture, although it may still be some time before she captures her first WWE title.

Typically with WWE's gimmick events, like the Royal Rumble or Elimination Chamber, there are two or three participants who are highly likely to win. At this year's Money in the Bank, almost every competitor had a legitimate shot at taking down the briefcase, other than maybe Bobby Roode and Kevin Owens. The biggest favorite coming in was Braun Strowman, and it didn't take long for the competitors to team up and neutralize the monster among them, burying Strowman under a slew of ladders. The seven remaining foes traded the advantage, with Rusev executing a triple Stack-Accolade, before being choked out by Samoa Joe. Ultimately, Strowman would return to the fray, launching Owens off of a ladder through a soundstage table, before bowling over the rest of his opposition. Guys like the Miz and Kofi put up little resistance, as Strowman scaled the ladder and claimed the briefcase for himself. It's a huge shock to see Strowman actually win the briefcase, because it's very rare that WWE books someone so heavy handedly and has them actually win (unless their name is Stone Cold.) With Universal Champion Brock Lesnar apparently on the sidelines until Summerslam, it will be interesting to see what Strowman does with the briefcase for the next two months, since it will be hard to confront a non-existent champion.
The Lows

From the very first moment that Sami Zayn and Bobby Lashley interacted, something just didn't click. After returning to WWE earlier this year, Lashley has competed mostly in throwaway tag matches on Raw, failing to pick up any momentum whatsoever. Similarly, Sami Zayn has failed to garner any traction once being separated from friend/foe Kevin Owens. What has taken place between Zayn and Lashley over the past several weeks has been nothing short of painful, and many were hoping that the ultimate match between the two would be a worthy payoff. It was not. In a glorified six minute squash match, Lashley spent a majority of the time holding Zayn up in vertical suplexes. The three count couldn't have been more welcome, not because the fans wanted Lashley to win, but because everyone was desperate for the feud to reach it's end. Let's pray to God that Lashley and Zayn move on to better things.
Obligatory Roman Reigns Match
Roman Reigns took on Jinder Mahal in a match-up of the top two guys in WWE that absolutely nobody wants to see right now. The match was every thing you would expect it to be: slow, boring offense from Mahal, followed by predictable, useless interference from a Singh brother, capped off by a Reigns rally and spear. 1-2-3. Somehow this match lasted fifteen minutes, which makes for a good bathroom/smoke break in the middle of a 4 hour show. There isn't much else to say other than that it's nice seeing Mahal and Reigns in the midcard where they belong.
The In-Between
David Beats Goliath… Again
Following his return to the WWE just before Wrestlemania, it seemed Daniel Bryan's first major feud would involve putting over the rising superstar Big Cass. We have seen the big man talk a big game, only to be thwarted by his undersized foe, and it seemed like Money in the Bank would be the night when Cass finally put the "little guy" down. Instead, Bryan chipped away at his opponent's formerly injured left knee before locking on a heel hook to elicit a submission. Disregarding the fact that Cass tapped to a heel hook even though Bryan had been working over his knee the whole fight.., the finish was somewhat puzzling. Bryan is an absolute fan favorite and always will be, and he 100% could have taken a loss here without losing any momentum. Cass on the other hand would have benefited tremendously from a win here over Bryan, while also extending their feud. Instead, the loss sends Cass back down to the bottom of the totem pole on Smackdown Live, entrenched behind top heels like Samoa Joe, Miz and Rusev.
Distracted By The Big Hog
The Princess of Staten Island squared off with the Empress of Tomorrow in a bout which many felt "Mella" had little, to no chance, of winning cleanly. Asuka asserted her dominance right out of the gate, with Carmella resorting to sneaky tactics utilizing the ring posts and the ropes to even the playing field. Just as Asuka was ready to move in for the kill, an Asuka look-alike appeared on the apron, gaining the challenger's attention, before revealing themselves to be James Ellsworth. Carmella would take advantage of the distraction and score the win following a superkick. The finish could have come off smoother if Carmella had nailed Asuka with a superkick right off the bat and pinned her, rather than Asuka kicking out of the initial roll-up. It seemed a little silly for Asuka to kick out and then right away get distracted by Ellsworth again. Expect for Asuka to continue to challenge for the title with Carmella finding more ways to elude her challengers.
Little Miss Money in the Bank Pt 2

For everything that was good about Alexa's cash-in, there was something equally disappointing to go along with it. First things first, the moment was exciting, as is any time when someone cashes in the Money in the Bank briefcase. What was unfortunate was it brought a sudden end to what had been an amazing debut singles match from Ronda Rousey. At the same time, it's understandable to see a false finish, to protect Rousey from losing clean, while also keeping the title just out of her grasp. The only thing is, Bliss was literally just the champion, for a long time, and putting the title back on her essentially nullifies everything that has happened on Raw for the past 4 months. After Nia overcame her friend turned bully, and became a positive female role model, Alexa just takes the title back. While it not only would have been nice to see someone other than Bliss hold the belt for a while, Alexa would also have been an ideal Miss Money in the Bank. Considering she's undersized compared to most of her competitors, the briefcase would have served as the perfect trump card for Bliss to use to torment the champion and her opponents. Instead, the feud between Nia Jax and Ronda Rousey has been brought to an immediate halt, even though they were putting on what was arguably the match of the night, in order to put Alexa back on top of the division which she has already resided over for so long. Yawn.
THE RUNDOWN
Following the embarrassing beatdown of CM Punk at UFC 225, the Chicago fans at Allstate Arena were eager to be entertained, and for the most part, WWE delivered. Money In The Bank is slowly becoming one of WWE's marquee events, and this year's MitB matches proved exactly why. Superstars flew off of, into, onto, and through a multitude of ladders, leading to some jaw dropping spots and some nasty bumps. With the exception of Alexa Bliss cashing in her briefcase on Nia Jax, each of the champions retained their titles, with Seth Rollins, Carmella, and AJ Styles picking up important victories. It's safe to assume Styles has vanquished Nakamura once and for all, while Rollins and Carmella may not have seen the last of Elias and Asuka. There are two big questions coming out of the event: first concerning the Raw Women's Championship, and whether a triple threat match is in the future for Alexa Bliss, Nia Jax and Ronda Rousey; and second, what we can expect to see from Braun Strowman holding the MitB briefcase with an absentee Universal Champion in Brock Lesnar. Could we see Strowman get upset with Kurt Angle or Stephanie McMahon in regards to Lesnar's absence, or will we see Strowman lay waste to anyone who enters the main event scene?


It was a strong night overall for Raw, especially "Team Little Big" of the Mixed Match Challenge, as Alexa Bliss and Braun Strowman each took down the coveted MitB briefcase, as well as impressive performances from Seth Rollins and particularly Ronda Rousey. While Smackdown received solid showings from Daniel Bryan, Asuka, Styles and Nakamura, each of those feuds seem to lack that "must-see" feel right now. After several weeks of Smackdown feeling like the A-Show, it looks like Raw has regained the top spot… at least for now.
Thank you for reading and make sure to tune in every Wednesday for the Wednesday Afternoon Rundown, when we cover all the top stories from Monday Night Raw and Tuesday's Smackdown Live, with expert analysis on what storylines to keep an eye on moving forward.