Welcome to the Wednesday Afternoon Rundown, where we break down all the biggest stories from this week's Monday Night Raw and Tuesday's Smackdown Live. By the end, we'll determine which brand reigned supreme and delivered a superior product for their faithful audience.
This week's editions of Raw and Smackdown were possibly the best consecutive episodes of WWE programming we've seen in the past year. Raw, which has lacked direction and lapsed in consistency in recent weeks, picked up considerable momentum following a monumental night for the Red brand. Tuesday's Smackdown continued the Blue brand's trend of strong storytelling and quality in-ring matches. With intriguing new twists and folds added into some top feuds, let's take a look at the highs, the lows and everything in between.
THE HIGHS
The Big Dog Reclaims His Yard
Monday's Raw kicked off with the long awaited return of Roman Reigns, who announced to a jubilant crowd that his cancer was in remission. The WWE Universe couldn't be happier to see Reigns back in the ring, and given his participation in a run-in later on in the show, its clear the Big Dog is eager to get his beak wet. Although Reigns may not fit into the immediate Universal Title picture, he will no doubt be a main event player leading up to WrestleMania.
The Man Gets Locked Up
Becky Lynch returned to Raw once again this week in an attempt to get her hands on Raw Women's Champion Ronda Rousey. The attack, which was in direct violation of Lynch's recent suspension, ended with the Irish Lass Kicker in cuffs. Multiple parallels have now been drawn between Lynch and Stone Cold Steve Austin, the man who captivated audiences during the Attitude Era. WWE has captured lightning in a bottle with The Man, and Becky's eventual triumph in the WrestleMania main event will be one for the ages.
Brothers One More Time?
After Roman Reigns announced his return to the WWE, fans quickly found out whether or not Reigns was ready for in-ring action. Along with old pal Seth Rollins, Reigns stormed the ring to wipe out Drew McIntyre, Bobby Lashley, Baron Corbin and Elias. It's surprising to see Reigns and Rollins coming to the aid of their Shield brother who betrayed them so recently, and their reluctance to join him in the ring shows their trepidation to trust the Lunatic.
With Ambrose reportedly expected to leave the company following WrestleMania, and another Shield reunion unlikely, we may very well see Reigns and Ambrose tango on the Grandest Stage of Them All.
A Nature Boy Interrupted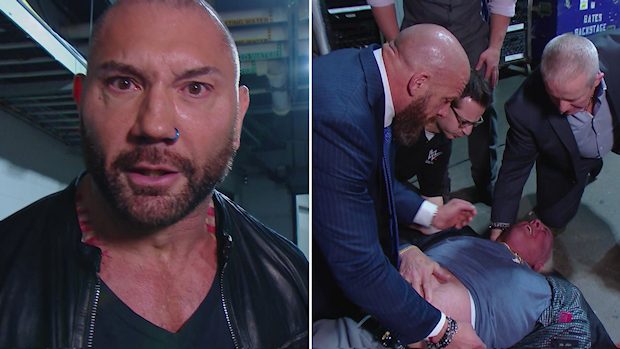 The duration of Monday's Raw built towards the 70th Birthday Celebration of Ric Flair. Following the introduction of several legends such as Ricky Steamboat and Shawn Michaels, Flair's own introduction was harshly interrupted by the shocking return of the Animal, Batista, who had assaulted Flair backstage before making known his intentions to battle Triple H.
The segment was a major surprise, and this incarnation of Batista is far better than the babyface "Bluetista" fans got five years ago. The attack on Flair is a shocker, as Batista and Flair have been tight since their Evolution days; but as a way for Batista to kickstart a feud with Triple H that has immediate heat, this worked beautifully.

THE LOWS
Revival on Life Support
The Raw Tag Team Championships have come as more of a curse than a blessing for the Revival. Upon winning the straps, the overly talented duo have dropped back to back matches, both to recent NXT call-ups. While there is no question that DIY, Ricochet and Aleister Black are main roster caliber wrestlers, they shouldn't be picking up clean wins over the tag team champions this soon.
As a result, The Revival look like nothing more than transitional champs. It begs the question why Creative wouldn't book matches allowing the NXT call-ups to be on the verge of victory, only for the Revival to use their heel antics to steal victory. That would be smart and easy.

A Rowdy Ultimatum
Following Becky Lynch's attack and arrest, Ronda Rousey demanded Chairman Vince McMahon come down to the ring. In his stead, Vince's daughter and Raw Commissioner Stephanie McMahon took the ring to quell Rousey's tantrum. What ensued was several minutes of Rousey awkwardly forcing her lines while trying to maintain suitable facial expressions. It isn't news that Ronda's mic skills are her weak point, but this segment was supposed to be a huge moment that ultimately fell flat. When somebody lays down the belt, it's should feel like a big deal. Instead, this segment left people thinking "What did she do that for?"
With WrestleMania just over a month away, and Becky Lynch continuing to be the hottest thing on WWE TV, Creative needs to find ways to avoid segments like this one moving forward.

Star Shpangled Angle
Kurt Angle took out Jinder Mahal and the Singh Bros in a match that didn't serve any purpose, nor did it belong on TV this close to Mania. Mahal's character hasn't done anything of importance in months. The last time we saw Angle in the ring he was being embarrassed by Baron Corbin and Drew McIntyre. This was a pointless match with a pointless result.
A Moment of Dissonance
Alexa Bliss welcomed Finn Balor to her "Moment of Bliss" talk show in a real head scratcher of a segment. Bliss and Balor went back and forth teasing all sorts of sexual innuendo, before Lio Rush happened to interrupt just as things were heating up. This is the second such segment recently featuring Bliss, after we also saw her being walked in on backstage while topless. It's a strange angle from WWE, exploiting sexuality at a time when the Women's Revolution is at its high point. And while Bliss may be restricted from in ring competition due to injury, there are multiple better ways she can be utilized rather than as eye candy. Shame on you Kevin Dunn, shame on you.
THE IN-BETWEEN
Lio Comes Into His Own
Lio Rush stepped out of Bobby Lashley's shadow Monday Night, going toe to toe with Finn Balor in one of the better matches of the night. The bout served as somewhat of a coming out party for Rush, who to this point has mostly been utilized as an annoying mouthpiece for Lashley. Unfortunately for Rush, he lost clean here, while still remains under Lashley's wing. With a little bit more direction, this feud could turn into something interesting. If Creative doesn't have plans for Rush, then they need to find something new for Balor heading into Mania.
Battle of the Bohemoths
Braun Strowman and Bobby Lashley were set to square off in a clash of two of the most powerful men in the WWE. The pair of monsters went at it before the bell sounded, with Strowman ultimately coming out on top before any kind of legitimate match could begin.
The impending showdown of big men should be a good one, but the feud itself is stale. Strowman seems to be in this endless battle with Lashley, Corbin, and McIntyre. On the other side, Lashley has had his hands full with Finn Balor, while still playing henchman to Baron Corbin, a man who is no longer the GM. Once these guys get some purpose behind their actions, these matches will start to feel more important.

An Upset By The Underdog
Newly crowned Raw Women's Tag Team Champions Sasha Banks and Bayley will enter their first title defense at Fastlane as underdogs to Nia Jax and Tamina. On Monday, Bayley went head to head with old foe Nia Jax in singles competition, picking up the surprise victory with her Big Elbow Drop finisher.
Expect Nia and Tamina to get a win back next week on Raw to even the series, before the Boss and Hug Connection successfully defend their titles at Fastlane. As mentioned last week, expect the Bella Twins or Trish and Lita to emerge as Wrestlemania challengers for the newly crowned women's tag team champions.

THE HIGHS
Replace "Kofi" with "KO"

Kevin Owens made his long awaited return to WWE television Tuesday night, but not in the way most had expected. Vince McMahon shocked the WWE Universe by removing Kofi Kingston from the WWE Championship match at Fastlane, replacing the New Day standout with the Prizefighter himself, Owens.
While the move received plenty of backlash from fans who are dying to see Kingston get his long awaited shot at the title, Owens inclusion actually protects Kofi. This way, Kingston is safe from having to take a loss at Fastlane, and will likely challenge for the title at WrestleMania instead, against either Bryan or Owens, or both.
The Truth Open
In the vein of his hero, John Cena, R-Truth issued a US Open Challenge this week, defending his belt in a crowd pleasing contest against Andrade and Rey Mysterio. Truth has always been an entertaining personality when given the opportunity, this should be a fun title run for Truth as long as Creative lets him do his thing. With so many quality names on the Smackdown midcard, look for some kind of multi-man ladder match at WrestleMania for the US title.
Kofi and KO "Stun" The WWE Champion
Kevin Owens capped off his return to Smackdown Live by pinning WWE Champion Daniel Bryan in the night's main event, reinforcing his position as #1 Contender in the Fastlane main event. Owens didn't use his reliable Pop-Up Powerbomb as a finisher though, instead electing to hit Bryan with a Stone Cold Stunner for the win. It will have to be seen whether KO continues to use the Stunner as his finisher, but the move is a reminder of the unique and diverse moveset which the Prizefighter possesses. How Kingston manages to get himself back into championship contention will be exciting to see.
THE LOWS
Team Extreme..ly Lame
A proposed bout between Johnny Gargano and Cesaro on Tuesday night was scrapped in favor of the return of the Hardy Boyz. Matt and Jeff haven't done much of anything in recent months, and their sudden addition to an already loaded Smackdown tag team division screams "WrestleMania Name-recognition". The Hardy Boyz are a legendary tag team who fans of all ages enjoy, but their inclusion at Mania will surely come at the expense of teams like Sanity, the Good Brothers, Heavy Machinery, The Bar, and so on.
THE IN-BETWEEN
The Queen's Speech
With Becky Lynch "in jail", and Ronda Rousey contained to Monday Night Raw, Charlotte Flair took to the ring Tuesday night free of distractions. The Queen made her WrestleMania intentions clear, stating she would never quit the way Rousey did the night before. The promo was short and to the point, and served it's purpose in keeping the storyline moving along.
NXT's Continued Dominance
Ricochet and Aleister Black teamed up this week to take on Rusev and Shinsuke Nakamura. Once again, the NXT callups got the best of their main roster opposition, with Black hitting Black Mass to give his team the victory. While the matches have been fantastic from these guys, it's hard watching main roster talent being defeated so easily, especially while the NXT guys still have no real purpose or direction. Here's to hoping Black and Ricochet get some kind of program together in time for WrestleMania, and don't end up being thrown into the Andre Battle Royal to fill space.
THE RUNDOWN
This was a great week for WWE programming. With WrestleMania rapidly approaching, all systems are go, and every storyline is beginning to receive the attention it needs to start gaining traction.
Raw started with some of the best news possible this week, the return of Roman Reigns, before ultimately ending with the shocking return of Batista and his assault on Ric Flair. 
On the Blue brand, Kevin Owens' return and subsequent insertion into the WWE Championship match at Fastlane carried Smackdown, adding a wrinkle to what has already been an exciting feud between Kofi Kingston and Daniel Bryan.
The midcard for each brand remains muddled at the moment, but is slowly beginning to take shape. The Miz and Shane McMahon seem to be on a collision course pending their eventual breakup, and Champions like R-Truth and Finn Balor have a multitude of potential opponents to lock horns with.
Behind the strength of two massive returns, Raw takes the cake this week as the top show. The impact of having Roman Reigns and Batista back for WrestleMania season can't be stressed enough. Paired with the monumental matches the women's division is preparing to put on, Raw has hit its stride and is not looking back. 
Thank you for reading and make sure to tune in every Wednesday for the Wednesday Afternoon Rundown, when we cover all the top stories from Monday Night Raw and Tuesday's Smackdown Live, with expert analysis on what storylines to keep an eye on moving forward.